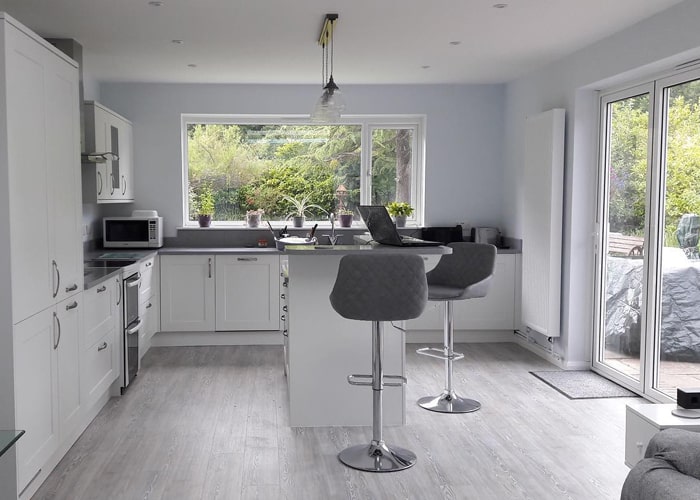 If you're looking to update your kitchen, whether to refresh a tired design or make better use of space, 2021 has bought us many new innovative kitchen design trends, from built-in dog beds to two-tone colour schemes. 
With the kitchen being the heart of the home for many of us, when it comes to updating it, there's a lot more than just the colour of the units and worktops to consider. 
Whilst it's tempting to take the easy route and replace like-for-like, there are often many ways in which we can improve our kitchen space by making better use of the space and adding new features.  
The Kitchen Trends Shaping Kitchen Design
At Facelift Home Improvements, kitchens are one of our specialities and we're always keeping up-to-date with the latest trends, so here are some of our favourite features we're seeing take off in 2021. 
#1 Two-tone Kitchen Units
Over the past year, we've started seeing (and installing) a lot of two-tone kitchens, with many customers choosing to mix and match the colours and textures of their kitchen cupboards and units.  
There are many ways to incorporate dual-toned units, from installing a different coloured kitchen island to choosing contrasting base and wall units 
Choosing two tones for your kitchen units is also a great option for the more indecisive of us who can't decide which colour to go with. 
Not sure you want to mix colours? Mix textures instead and add some wood or other material accents to your kitchen 
This trend works best when contrasting colours are used, so think white and navy, grey and white, or white and wood units for the best results. 
#2 Built-in Dog Bed Space
When designing and installing a new kitchen, many of us are now considering not just our own needs, but those of our dogs (and cats) too.  
One of our favourite emerging kitchen trends this year is built-in dog bed spaces, which not only look super cute but give your dog their own part of the kitchen too, so they can relax near you in a safe and cosy space. 
It basically involves adding an empty space under part of your worktop, where you can either place a bed or a specially made-to-size pillow for your dog to relax on. 
Why not take it one step further, and add a draw or cupboard nearby especially for their treats and food? 
For safety reasons, be sure to install your integrated dog bed well away from cooking and food preparation areas.
#3 Built-in open shelving
If you have a large collection of cookbooks then this trend is for you! Built-in shelving and bookshelves are becoming more and more common in kitchens this year, with many of us choosing to display our cups, plates and even have built-in space for our cookbooks.  
Not only does this trend give a sophisticated finish to your kitchen, but it means things you use regularly like cups and plates are at easy reach. 

#4 Island dining areas
Whilst the past decade has seen islands and kitchen breakfast bars dominate those fortunate enough to have the space, this year is seeing the rise of the integrated island dining table. 
An island dining area is a particularly good solution for those who are faced with the dilemma of having an island vs having a dining table in their kitchen but don't have the space available for both. 
Island dining tables can be extended with space under part of it for seating, or a table section in a contrasting colour can be attached. We've even seen some variations where one side of the island forms a dining bench with a matching table placed in front.  
If your kitchen doesn't have adequate space for a full dining table-sized extension of your island, a small space for some bar stools under a kitchen island will still double-up the use of your space. 

#5 Minimalist Kitchens
For those of us who prefer a sleek and simple design, there are many innovative new ways to create a minimalist look in the kitchen, which let's face it isn't easy compared to most rooms, what with kettles, toasters and frequently used things such as tea, coffee and sugar usually taking up some of our worktop space. 
Some of our favourite minimalist trends this year include: 
– worktop level cupboards and units to conceal kettles, tea and coffee 
-Handle-less kitchen unit doors and drawers. 
-Units for appliances and even cookers 
-Splashbacks instead of tiles in simple textures from stone effect shades to matte. 
-Dark sinks and taps 
#6 Integrated Kitchen Larders
Traditionally, a larder is a small room in your home, typically near to or accessed from your kitchen. However, if your home doesn't already feature a separate larder, why not consider an integrated kitchen larder? 
If you have space for a full-length kitchen cupboard, then you have space for your own kitchen larder! The perfect place to keep your extra supplies, ingredients and anything else you don't have space for in your main cupboards. 
#7 Statement features
We've seen more and more statement pieces being installed in kitchens this year, from exquisitely textured splashbacks and worktops to copper taps and handles, adding a few bold pieces to your kitchen can give an impressive look whilst making it your own. 

Get Started Designing Your New Kitchen
We hope you have found our list of kitchen trends for 2021 interesting and inspiring, and if you're based in West Sussex and looking for your perfect new kitchen, then speak to your team today! We also specialise in and install accessible kitchens as well as accessible bathrooms.
We offer full kitchen design and kitchen installation services to customers in Horsham, Crawley and other nearby areas in West Sussex and Surrey. 
We can help you through the whole process, from design to installation, just drop us a message and we'll help you get the process started!